5 Oral Health Tips Everyone Should Follow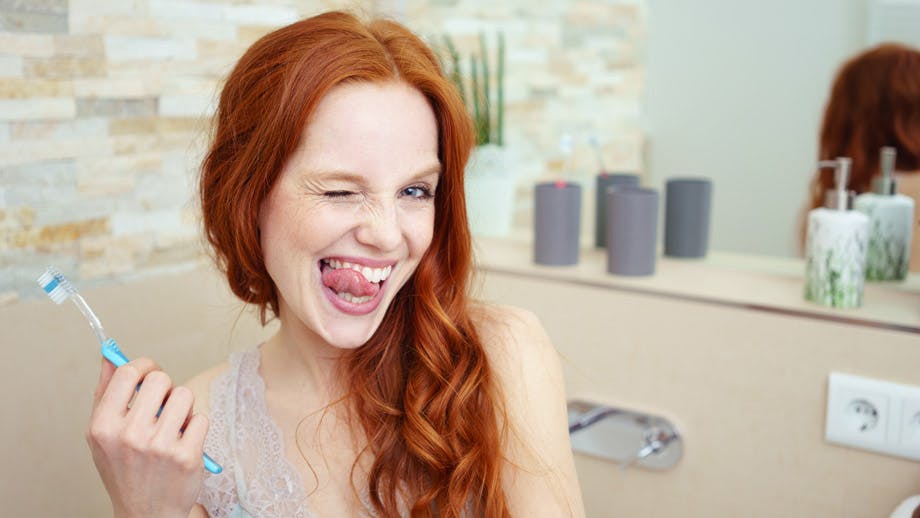 Helps to repair deep inside the tooth to relieve sensitivity*

Improved foaming action
Long lasting sensitivity protection
Cavity protection
Whitening action
Daily repair for sensitive teeth
Fresh taste
At this point, most of us know we should be brushing and flossing every day, but have you ever wondered if there were other things you should be doing on a daily basis to keep your pearly whites as healthy as possible? How much of a focus should you be putting on your toothbrush? Do you really need to brush your tongue? Should you be using a specific kind of mouthwash?
To answer all these questions and more, we sat down with Dr. Kristin Piper, DDS, out of Clintonville, OH, to get some advice on a few oral health tips everyone should be following.
Daily Oral Health Tips
Don't Forget Your Tongue:
First thing's first, yes, you can definitely clean your tongue! "If you haven't yet, think about using that tongue scraper to remove bacteria from the surface of your tongue," said Dr. Piper. It can be a great way to go the extra mile for your mouth.
Your Toothbrush Type Matters:
When it comes to toothbrushes, there really is a specific type you should be using. "There are so many types of toothbrushes out there, but some are definitely better than others," she said. "Finding a toothbrush with soft bristles that can reach back to the crevices of your molars should be your go to. Just make sure that the toothbrush has an ADA Seal of Acceptance."
Clean Teeth Need a Clean Brush:
And speaking of toothbrushes, did you know that you should clean your brush after every use? "Unless you want new bacteria to breed and wind up in your mouth, you need to clean your toothbrush," Dr. Piper said. "The American Dental Association (ADA) says to rinse your toothbrush after each use and allow it to air dry. And whatever you do, don't cover your toothbrush — this can lead to bacteria buildup. So, skip the toothbrush covers unless you need them for traveling."
Out With the Old:
Thirdly, if you've been using the same brush for months and months and months, you should know that there's definitely a toothbrush expiration date! According to the ADA, you should replace your toothbrush every three to four months — sooner if the bristles are looking frayed or worn.
Hello, Mouthwash!
Another important oral health tip that many of us may not realize? Mouthwash can do more than just freshen breath! "Sure, mouthwash works great as a breath freshener, but it can also have oral health-boosting abilities," she said. "Some special mouthwashes can help strengthen your teeth, reduce plaque, and fight off gingivitis before it even starts. Talk to your dentist about therapeutic mouthwashes that can help with oral hygiene if you're interested in more than just over-the-counter mouthwashes."
Now that you're in the know when it comes to daily oral health tips and tricks, make sure that you're going the extra mile and protecting your teeth from sensitivity pain every time you brush. Sensodyne Rapid Relief provides significant sensitivity relief in three days, and thereafter, when brushing twice a day.