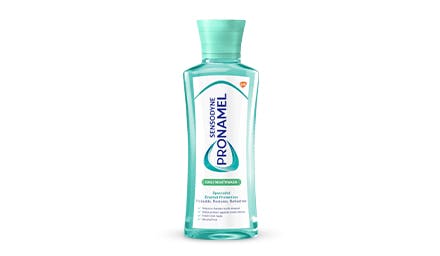 Helps re-harden tooth enamel
Helps protect against the effects of acid erosion
Fresh mint taste
Alcohol free
Developed with dentists
Acid protection formula
Helps protect against tooth decay when used with twice daily brushing
Why use a daily mouthwash?
Throughout the day, our teeth become covered in a sticky, bacteria-filled film called plaque. Though this may sound unpleasant, dental plaque is a natural part of our oral health experience.1
If not removed regularly from our teeth with a good oral hygiene routine, plaque can build up and harden to become tartar (or 'calculus').1,2 By this stage, it can't be removed at home with regular brushing and can only be professionally treated by a dentist or oral hygienist.2 Eventually, plaque that isn't removed can also lead to more serious dental issues – including gum disease, cavities and tooth decay.1
The good news is that there is a very simple way to help avoid plaque build-up: twice daily brushing, plus daily flossing and using a daily fluoride mouthwash. Along with regular dental check-ups, this combination is the best path toward safeguarding your smile against tooth decay and gum disease.1,2
Of course, it's important to note that mouthwashes don't remove existing plaque, while brushing and flossing do.3 For this reason, using a mouthwash should not be considered a replacement for twice daily brushing and regular flossing, but instead as an addition to your oral care routine.4 Because while it can't remove plaque, a dental mouthwash can certainly help to control plaque build-up and prevent it from progressing to a more serious issue.3 Mouthwash can also help to clean the harder-to-reach areas of your mouth and teeth that a toothbrush can't always access.4
What is a suitable mouthwash for me?
Ultimately, the right person to advise you on the best mouthwash for your teeth is either your dentist or dental hygienist, since they are the most familiar with the state of your oral health.3
A non-alcoholic mouthwash such as Pronamel Daily Mouthwash, however, offers several benefits for your smile. Developed with dentists, Pronamel Daily Mouthwash can help protect your teeth against tooth decay* by supporting the re-hardening of tooth enamel. It can also help protect against the effects of acid erosion with its acid protection formula.
If you experience sensitive teeth, you could also opt for Sensodyne Cool Mint Mouthwash, which is specially designed for people with sensitive teeth – helping to remineralise tooth enamel and prevent cavities.
Discover the full Sensodyne range today.
*When used with twice daily brushing
Aqua, Glycerin, Sorbitol, Poloxamer 338, PEG-60 Hydrogenated Castor Oil, VP/VA Copolymer, Potassium Nitrate, Sodium Benzoate, Cellulose Gum, Aroma, Sodium Fluoride, Methylparaben, Propylparaben, Cetylpyridinium Chloride, Sodium Saccharin, Xanthan Gum, Disodium Phosphate, Sodium Phosphate, CI 42090
Contains: Sodium Fluoride 0.1% w/w (450 ppm fluoride).
Always follow the label directions: Use twice daily. Measure 10 ml and rinse for 1 minute then spit out. Do not swallow. Do not rinse with water. Do not drink from the bottle.
As with any other oral care products, if irritation occurs, discontinue use. Keep out of reach of children. Not for use by children under 12 years of age unless on advice of a dental professional or doctor. Do not use if seal on cap is broken.
The Development of Strong and Bright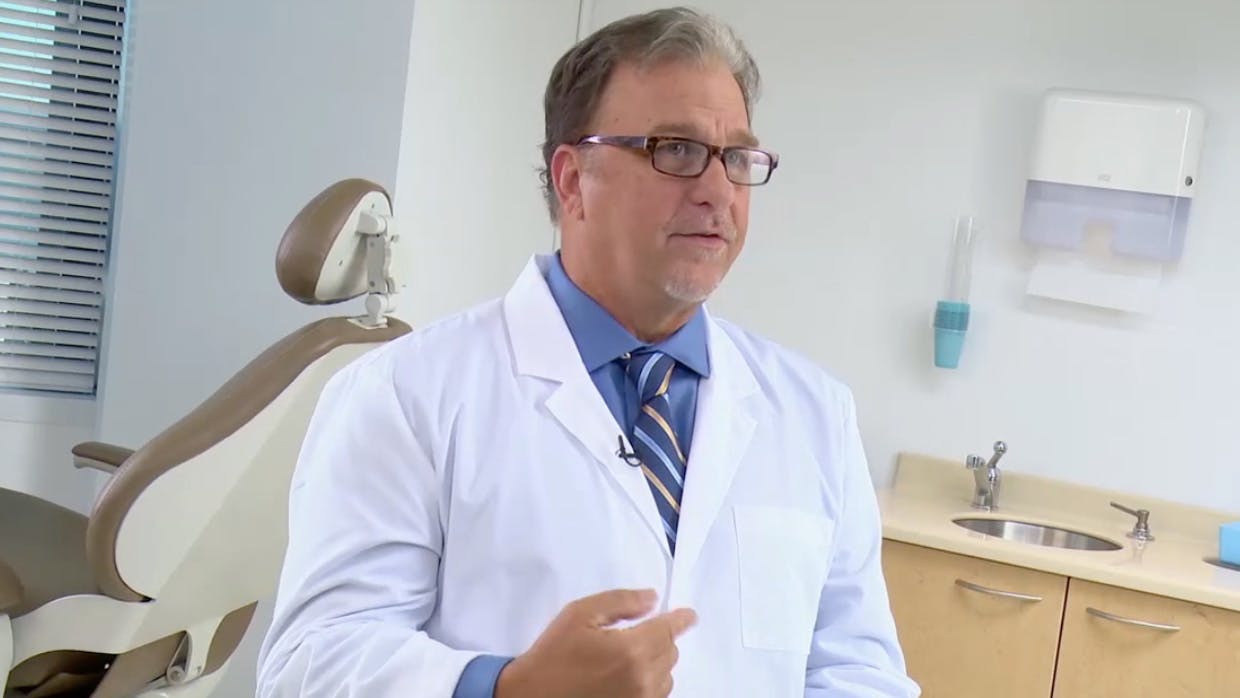 Learn more about the benefits of Pronamel Strong and Bright for strong, healthy enamel.
"Wow, it is amazing how great it works. I can eat ice cream again. Anyone with sensitive teeth should try this. It works and has a great minty taste."
–Jhart19, Keene, NH