Toothache: A Complete Guide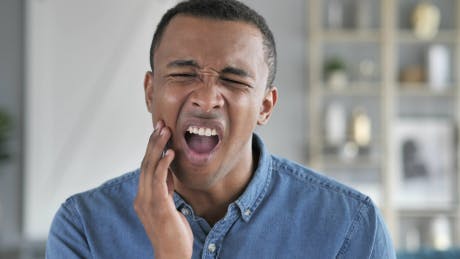 Why Do My Teeth Hurt?
There are many things that can cause toothache, and many ways it can affect your wellbeing.1 Toothache is caused by the inflammation of the dental pulp in your tooth – the inner layer made up of nerves and blood vessels.2 This layer is incredibly sensitive and can react badly to changes in temperature, puffs of air, sugar and pressure, which may lead to toothache.3 Pain can occur if your dental pulp is exposed in any way; and the level of tooth pain you'll feel will depend on what's causing it.
Here are the most common causes of tooth pain:
Tooth decay: is when you have holes or cavities in your teeth that leave an opening to the dental pulp within

4

. More than 3.5 billion people worldwide suffer from oral disease, and 2.4 billion of those cases are tooth decay.

5

A cracked or broken tooth. Many people hurt or crack their teeth because of something unexpectedly hard in their food and this can cause severe tooth pain if left untreated. These cracks sometimes need specialist equipment to be seen, so if you feel tooth pain, see a dentist to be sure.

6

Receding gums. This is often a sign of gum disease, and can also be the cause of toothache. As the gums recede, they expose more and more of the tooth, which can cause tooth sensitivity and pain.

7

Dental abscess. There are two different types of abscess that can cause toothache – periodontal and periapical. Periodontal abscesses are found in the gums and are caused by a bacterial infection, while periapical abscesses cause toothache because they are pus-filled sacs at the end of the tooth. You'll need to see a dentist whichever type you have, to help fix the problem and alleviate the toothache.

8

Illness can also be a cause of tooth pain. You may find that blocked sinuses are causing you tooth pain; this is referred pain from your sinus that feels just like a toothache.

9

Loose or broken fillings are another leading cause of toothache. When a filling falls out, your dental pulp is exposed and the nerves are exposed, causing you tooth pain and discomfort.

10
It can be difficult to tell the difference between a cavity or tooth sensitivity, so Sensodyne has a handy guide to help you.
What Are The Symptoms Of Toothache?
The symptoms of toothache vary depending on its causes and your level of pain tolerance. Here are some of the most common symptoms associated with tooth pain:
Pain that comes and goes infrequently, sometimes severe and sometimes just a dull ache.

Toothache that happens straight after eating or drinking food that's cold or hot. You may also experience tooth pain if you eat or drink sugary foods or put pressure on your teeth while chewing.

11

Toothache that gets worse at night. It can become significantly worse if you're lying down. This can be caused by pressure on the affected tooth and can emphasise the discomfort.

12

Pain that doesn't seem to be located in one specific area. Often toothache can feel like it's in one area but is actually coming from another area. This is due to the number of nerves in your teeth, and is called 'referred pain'.

13

Areas on your face may feel sore to the touch or look swollen. If this is the case, you should see your dentist as soon as possible, as it could mean your toothache is more serious.

14
If you're still not sure what could be causing your tooth pain, take a look at the cavity vs sensitivity chart from Sensodyne to learn about the differences.
How can I help protect my teeth?
There are several ways in which you can manage your toothache. If you think the cause of your toothache fits one of the descriptions above, you should see your dentist.
However, there are ways of looking after your mouth that will help you minimise the risk of tooth pain:
Try to minimise your intake of sugary foods and drinks while maximising your intake of crunchy and fresh vegetables, which are great for your mouth.

15

Brush your teeth twice a day, especially just before you go to bed at night. This will help remove plaque and food from your teeth and keep them in great shape. You should brush in a gentle, circular motion that includes your gums and all areas of the mouth.

16

Use dental floss to clean between your teeth at least once a day; it helps remove food particles from between your teeth and reduces the risk of tooth pain.

Avoid cigarettes, as they can seriously affect your oral health and your oral hygiene.

17

Get regular dental check-ups so your dentist can catch any problems before they become serious.

18

If your tooth pain is because you have tooth sensitivity, consider swapping to a specialist sensitive toothpaste. Sensodyne Rapid Relief both help people with tooth sensitivity pain, while Sensodyne Repair* and Protect helps protect your sensitive teeth.
*with twice daily brushing
Sources: Clicking any of the links below takes you to an external website that is independently operated and not managed by GSK. GSK assumes no responsibility for the content on the website. If you do not wish to leave this website, do not click on the links below.