WHAT TO KNOW ABOUT TEMPORARY TOOTH FILLINGS
While many of us probably think of our teeth as being endlessly durable and low-maintenance, it's still possible to damage them, or sustain wear and tear over time. In some occasions, the wear or damage may be severe enough that your dentist recommends a filling, to restore a damaged tooth and prevent any further issues.1
Potential reasons for needing a dental filling may include:1
Tooth decay. This is the most common reason for needing a filling. Tooth decay occurs when dental plaque builds up and turns sugars in the mouth into acid, which then damages your teeth.

2

Fillings are often required if tooth decay progresses to the point of causing holes in the teeth (cavities).

2

Acid erosion. Acids in the mouth from an acidic diet or conditions like acid reflux can damage your tooth enamel and leave you needing a filling.

Injury. If you've suffered a chipped or broken tooth, your dentist may be able to repair it with a filling.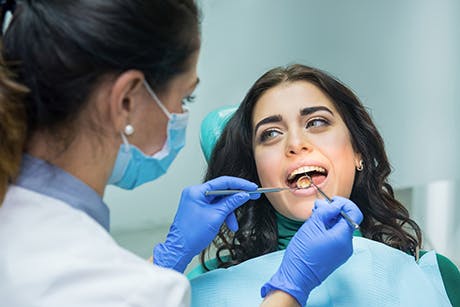 WHAT IS A TEMPORARY DENTAL FILLING?
If your dentist tells you that you need a filling, you will eventually need a permanent one. However, in some cases, your dentist may first administer a temporary tooth filling.3 This will be removed at a later date and replaced with a permanent filling by your dentist.3
Temporary tooth fillings differ from permanent fillings in several ways:
Durability. Temporary fillings aren't designed to last as long as permanent fillings, so you should always keep your follow-up appointment with your dentist to have a temporary filling exchanged for a permanent one.
Appearance. Permanent fillings may be metallic (these are called 'amalgam' fillings and are typically chosen for their shelf life – they can last for 20-40 years if you look after your oral health!) or practically identical in colour to your teeth (these are called 'composite' fillings).1 Temporary tooth fillings, in contrast, are designed not to match your teeth, so your dentist can easily identify them when it's time to remove and replace them with a permanent filling.
Aftercare. Because temporary fillings are more fragile than permanent fillings, you have to be more careful with them (for example when brushing and flossing your teeth).
Your dentist might give you a temporary filling:
as an emergency treatment for a painful cavity,

4

if your dentist doesn't have time to give you a permanent filling.
while you wait for a dental crown to be made.

5



to allow for healing or settling (e.g. after a root canal) before applying a permanent filling.

5
WHAT IS GETTING A TEMPORARY FILLING LIKE?
If you're someone who feels nervous about visiting the dentist, don't worry! Getting a temporary filling is usually a pretty speedy process (sometimes it takes less than half an hour), and it should be a relatively painless procedure, too.
Here's what you can expect when getting a temporary filling:
If necessary, your dentist will first numb the affected area in your mouth.

If there is any decay present, your dentist will remove it. They may also now perform any additional dental procedures required.

Your dentist will then mix the filling material, apply it to your tooth, and shape it appropriately.
And that's it! You're done.
HOW SHOULD I LOOK AFTER MY TEMPORARY FILLING?
You should ask your dentist if they have any specific guidance for you on caring for your temporary filling. In general, though, you can expect a little bit of caution to be necessary, as temporary fillings are more fragile than permanent ones.
You may need to be quite careful when you brush and floss. When removing floss, you should gently pull it out to the side instead of pulling it up and out, to keep from accidentally pulling out your temporary filling.
HOW LONG DO TEMPORARY FILLINGS LAST?
It really depends. The duration will vary from person to person, and the type of material used to make your temporary filling may affect its shelf life, but in general, they can last from a few weeks to a few months. One thing's for sure, though: they are only a short-term solution, so always keep your follow-up appointment with your dentist for a permanent filling.
CAN I EAT NORMALLY WITH A TEMPORARY FILLING?
You should ask your dentist if you need to make any allowances for your temporary filling when eating. They may ask you to avoid chewing with that side of your mouth for a few hours after getting the temporary filling, or even until it's replaced with a permanent one.
WHAT IS A TEMPORARY CROWN?
If your tooth is damaged or weakened to the point where it cannot be fixed with a filling, your dentist may suggest a crown instead.6
A crown is essentially a cap that is placed over the entire visible portion of your tooth.6 It's a permanent solution that can last for years,6 but they do take time to make. While you're waiting for your permanent crown to be made, your dentist can fit you with a temporary crown.6 They will then remove this at a later date and replace it with the permanent crown.6 So, a temporary crown is a lot like a temporary filling in many ways, except it's more like giving your tooth a full-length coat instead of an umbrella.
WHAT IF MY TEMPORARY FILLING FALLS OUT OR BREAKS?
With proper care and a bit of luck, your temporary filling should last until your follow-up appointment with your dentist. However, sometimes things happen, and it is possible for a temporary filling to break or fall out unexpectedly. If this happens, book an appointment with your dentist as soon as you can. It's important to get a lost filling repaired or replaced as soon as possible, to prevent any further damage to your unprotected tooth.
Help maintain good oral health with proper hygiene practices and a robust care routine. Learn more about Sensodyne products and how they can play a part in helping keep your teeth and gums healthy.
Sources: Clicking any of the links below takes you to an external website that is independently operated and not managed by GSK. GSK assumes no responsibility for the content on the website. If you do not wish to leave this website, do not click on the links below.