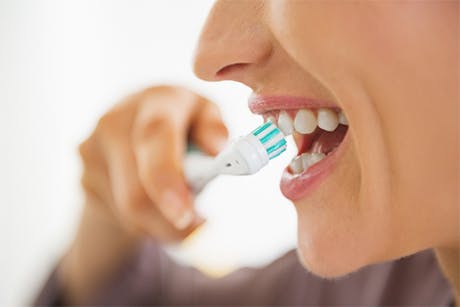 To maintain healthy teeth and gums, you need to know how to brush your teeth properly and keep them clean. Your first step is to brush your teeth with a toothpaste that's suited to your teeth and oral health. If your teeth are sensitive, you should use a toothpaste specially designed for sensitive teeth. Sensitive teeth are quite common – if you are sensitive to hot, cold or sweet foods, then you can consider using a toothpaste designed for sensitive teeth1 and a soft bristle toothbrush like Sensodyne Repair and Protect toothbrush which helps protect against the effects of over brushing.

Finding the right tools is the first step to knowing how to brush your teeth well. The next step is to brush your teeth at least twice a day for two minutes each time.2 Move the toothbrush in small, gentle, circular movements, so that the head of the toothbrush moves over the entire area of the tooth.3 Don't just brush your front teeth; also focus on your back teeth, behind your teeth and everywhere in-between.4
If you want to really clean your teeth properly, you should also floss. This is an important step in any routine to help remove plaque and food debris from between the teeth and keep your mouth fresh and your gums clean.5
When it comes to brushing your teeth, there are a few simple rules that you must follow. People should brush their teeth using a soft bristled toothbrush for at least two minutes, twice a day. They should also refrain from brushing immediately after eating or drinking anything acidic, as this causes the enamel to be more vulnerable to wear over time and can lead to duller and yellowing teeth.
Many people still find it hard to follow these rules and stick to a consistent regime. Here's a step-by-step guide on how to brush your teeth properly.
Place the toothbrush head against the tooth at a 45-degree angle and brush gently using small circular motions.

Roll or flick the toothbrush in order to move plaque away from the gum line and towards the biting edge of the tooth.

Repeat steps 1 and 2 for every tooth, checking that all outer tooth surfaces and gum lines are cleaned.

Next, focus in on the front teeth and gently brush the inner surface of each tooth found here before rolling or flicking the toothbrush towards the biting edge of these teeth.

Move onto the biting teeth and gently brush the flat surface back and forth.

Repeat step five but this time applied to the chewing teeth.

Finally, gently but firmly brush the tongue in order to remove bacteria and spit out.
Top Tips For Brushing Your Teeth
Don't rinse your mouth with water straight after brushing your teeth!

6

This washes out your toothpaste and prevents it from doing its job.

Instead after brushing, just spit out any excess toothpaste.

It's also important that you brush your teeth at least twice a day with a fluoride toothpaste.

7
Sources: Clicking any of the links below takes you to an external website that is independently operated and not managed by Haleon. Haleon assumes no responsibility for the content on the website. If you do not wish to leave this website, do not click on the links below.