Sensodyne Daily Care Toothbrush
The Sensodyne Daily Care Toothbrush has been specially created for the twice daily cleaning and brushing of sensitive teeth. Its soft bristles are designed to be gentle on sensitive teeth and gums, while its small toothbrush head helps to effectively remove plaque in even the hardest to reach areas of the teeth and mouth.
We recommend pairing the Sensodyne Daily Care Toothbrush with twice daily brushing with a fluoride toothpaste (along with regular dental check-ups) to give your smile the care it needs to stay clean and healthy.
Learn more about why an extra soft or soft toothbrush could be right for your teeth below.
What types of toothbrush heads are available?
When shopping for a toothbrush, you have likely seen that there are three main types of toothbrush heads to choose from – extra soft, soft and medium – and these labels simply refer to the firmness of the bristles on the toothbrush.
The best toothbrush head for you will depend on your specific oral health needs; for example, if you have sensitive teeth, or gum problems that may cause pain when you brush.
In addition to the firmness of the bristles on your toothbrush head, you also have the option of choosing either an electric or manual toothbrush. Some people find that brushing with an electric toothbrush makes it easier to brush more thoroughly, however this is just personal preference. Rest assured that either an electric or manual toothbrush option is more than adequate for properly cleaning your teeth, as long as you brush properly and twice a day.1
Which toothbrush is right for me?
With so many toothbrush heads and types to choose from, you may be wondering, which one is right for me?
For most people, a medium or soft toothbrush with a small head and compact bristles is the best tool to keep their teeth clean and healthy, as long as they are brushing twice a day with a fluoride toothpaste.1
If you suffer from tooth sensitivity, gum disease or gum recession, however, an extra soft toothbrush head may be a better option. This is because brushing too hard (known as 'toothbrush abrasion') can actually wear away your tooth enamel and result in, or exacerbate, sensitive teeth – and an extra soft toothbrush head can help you maintain a gentle touch.1
For those experiencing mild or advanced gum disease, and/or symptoms such as swollen, tender or bleeding gums, it may also be painful to brush with a firmer toothbrush head.2,3
In both of these cases, a Sensodyne toothbrush with a small head and soft bristles that is specially designed to be gentle on sensitive teeth and gums – like the Sensodyne Daily Care Toothbrush – is perfectly suited.
It's also a good idea to speak to your dentist or oral hygienist during your next check-up, and ask them about which toothbrush head type they recommend for you.
Discover the full Sensodyne range today to find the right products for your teeth.
*64% of 200 surveyed dentists, 2022 (contact mystory.gb@haleon.com for claim verification).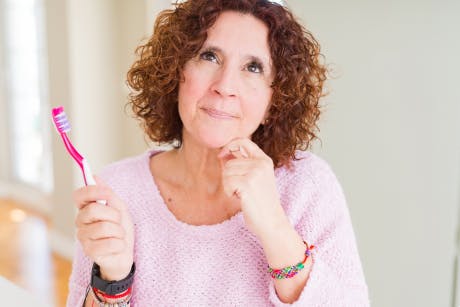 Children under 6 years should be supervised during brushing.
Do not allow bristles or toothbrush to be chewed.
It is recommended that toothbrushes are replaced every 3 months.
Sources: Clicking any of the links below takes you to an external website that is independently operated and not managed by Haleon. Haleon assumes no responsibility for the content on the website. If you do not wish to leave this website, do not click on the links below.
What Does Sensitivity Feel Like?
Watch Dr. Jay's simple explanation and why he recommends Sensodyne to his patients with sensitive teeth.
"This toothpaste is wonderful! It definitely reduces sensitivity and also leaves behind fresh smelling/tasting breath."
–Beautybee32, Wasilla, AK