Find the Best Pain Relief For Toothache
Toothache might seem like a small problem, but it can have a huge impact on our every day. It could be a short-lived, sharp pain that disturbs your sleep or a milder sensation that makes you think twice about sipping an ice-cold beer on a Friday after work.
In this easy-to-understand guide, we explore the potential causes of toothache and help you find the most effective tooth pain relief.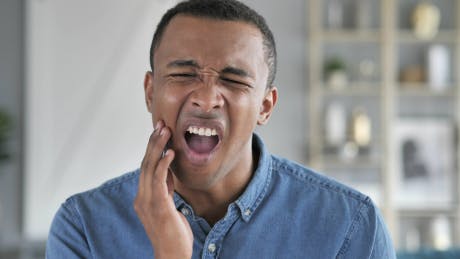 WHAT CAUSES TOOTH PAIN?
Understanding the cause of your toothache is the first step to regaining your enjoyment of life's small pleasures – be it your steaming mug of morning coffee or biting into a crisp apple.

Depending on the cause and severity of your tooth pain, you may experience headaches, sinus pain and a tender jaw. There are many reasons why this can happen; it could be something as common as tooth decay and gum problems or more serious issues relating to impacted teeth and problems with the jaw.1 The most frequent causes of toothache include:2

• Tooth decay and cavities
• Gum disease
• Receding gums
• Abscesses
• Cracked teeth or fillings
• Impacted teeth, such as wisdom teeth
Sinus infections & inflammation in the joint connecting the jaw to the skull can also feel like toothache.
If the pain is severe, or if it's running up along the side of your jaw, make an appointment to see your dentist.3 To rule out anything more serious, chat to a dental professional about tooth pain relief if your symptoms have lasted for more than two days.4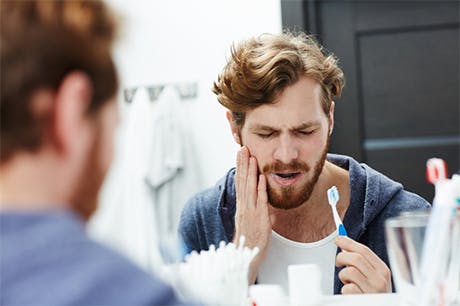 FIND EFFECTIVE TOOTH PAIN RELIEF
Thankfully, in many cases there are simple tooth pain remedies at home that can ease the symptoms of toothache and help you manage the pain. For quick relief, take paracetamol or ibuprofen – though beware that this isn't a permanent solution and you should seek the advice of a dentist if the pain continues.6
In the long term, reducing your intake of sugary foods, brushing your teeth twice a day with a toothpaste that contains fluoride and regular dental check-ups will help protect your teeth from decay and gum disease, so that you can get on with life undisturbed by toothache.7
COULD YOUR TOOTH PAIN BE CAUSED BY SENSITIVE TEETH?
Have you ever experienced tooth pain after biting into an ice cream? Do your teeth ache when walking outside in cold weather? Though this pain may come and go, it could be a sign that you suffer from sensitive teeth.
The good news is that it can be easy to manage the symptoms of sensitive teeth. In the short term, you can keep pain at bay by drinking through a straw, avoiding extremely hot or cold temperatures and sticking to soft foods. Over-the-counter pain-relieving gels and painkillers such as ibuprofen or paracetamol can help relieve tooth pain too, as can something as simple as rinsing your mouth with salt water (children should not do this).8
Yet life is too short to tiptoe around tooth sensitivity all the time. Gently brushing your teeth twice a day with dentist-approved sensitive toothpaste will help you get on with your day without worrying about tooth pain caused by sensitivity.
Remember, if you get a high temperature, a bad taste in your mouth or a swollen cheek or jaw, you should see a dentist.9
Sources: Clicking any of the links below takes you to an external website that is independently operated and not managed by Haleon. Haleon assumes no responsibility for the content on the website. If you do not wish to leave this website, do not click on the links below.