How to Care for Healthy Teeth and Gums
Taking good care of your teeth and gums is not only important for maintaining a healthy mouth and body, but helps you smile with confidence too.1

If you don't know how to clean your teeth properly or look after your gums, it's possible that you could develop gum disease or tooth decay. These common problems can be tricky to repair or painful, and, can even lead to tooth loss.2

Yet the great news is, in most cases these problems are easily prevented with a simple, at-home oral hygiene routine and regular visits to the dentist. In this guide, we take you through the basics of looking after healthy gums and teeth so that you can smile pain-free.
HEALTHY TEETH AND GUMS: WHAT TO LOOK FOR
Worried that you don't have healthy teeth or gums? There are a few key symptoms to look out for. You may notice toothache or pain, tooth sensitivity or an unpleasant taste in your mouth that could point towards tooth decay. If you notice that your gums are swollen, that they bleed when you brush your teeth, that you have gaps or gum recession, these could be signs of gum disease. You might also notice bad breath and wobbly teeth.3

If your gum line is tender and inflamed, visit your dentist as this could be a sign of an infection.4
HOW TO CLEAN YOUR TEETH PROPERLY
While unhealthy teeth and gums are a common problem, just a few simple steps can make a huge difference to your mouth – and your smile – in the long run. Good oral hygiene, regular dental check-ups and addressing lifestyle factors that put your mouth health at risk are key to keeping teeth and gums healthy.

For a bright, white smile and healthy pink gums, brush twice a day, for at least two minutes, with a toothpaste that contains fluoride designed to protect your tooth enamel.5 If your teeth are sensitive to changes in temperature or pressure, try the daily dual action Sensodyne Sensitivity and Gum toothpaste which supports healthy gums and teeth.

Once a day, clean between your teeth with interdental brushes or floss. This helps to remove food, debris and plaque that can get stuck between your teeth and along the gum line, leading to inflamed gums.6 Take special care to clean thoroughly around crooked or crowded teeth.

If you have any doubts about how to clean your teeth properly, a dentist or dental hygienist should be able to give you tips on the best techniques as well as remove build-ups of plaque that can lead to tooth decay. Regular dental check-ups will also help to detect any problems early, making them easier to tackle.
LIFESTYLE CHANGES FOR HEALTHY TEETH AND GUMS
Caring for our mouths doesn't just happen in the bathroom. A healthy lifestyle can help us have healthy teeth and gums too. People who smoke, have poor diets or suffer from stress are more likely have unhealthy teeth and gums.7

Consider limiting your intake of alcohol and sugar. If you smoke, try quitting. These steps can prevent staining too, thereby helping you to reclaim your bright, white smile.8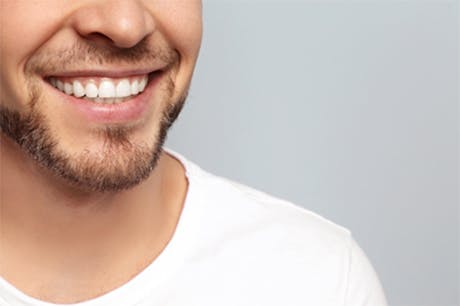 Sources: Clicking any of the links below takes you to an external website that is independently operated and not managed by Haleon. Haleon assumes no responsibility for the content on the website. If you do not wish to leave this website, do not click on the links below.