Why do We Experience Sensitive Teeth After Whitening?
While many of us long for a brighter, whiter smile, the nasty twinge of tooth sensitivity that can come with some over-the-counter teeth-whitening products, whitening strips and even at-home teeth-whitening remedies isn't quite so desirable.
There are many reasons that our teeth may become discoloured, whether it's a build-up of plaque, smoking cigarettes or something as everyday as your morning coffee or a glass of red wine after work on a Friday.
Fortunately, it is possible to whiten your teeth without suffering from sensitivity. Read on to discover why you might experience sensitive teeth after whitening, how to manage pain and find the best sensitive whitening toothpaste for a bright, pain-free smile.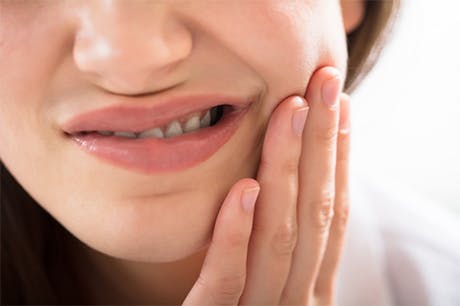 WHAT CAUSES SENSITIVE TEETH AFTER WHITENING?

As with any other dental procedure, teeth whitening comes with potential side effects and risks, and this is especially true of some over-the-counter whitening strips and bleaching trays, as well as home remedies including activated charcoal, apple cider vinegar and fruit scrubs. If you do decide to bleach your teeth, please speak to your pharmacist.

If you experience increased tooth sensitivity or gum irritation after these whitening methods, it might be because the products are overly abrasive or acidic, which wears away tooth enamel and irritates gums.1 Meanwhile bleaching agents such as peroxide can irritate the nerves inside your teeth.

If you're not sure why your teeth are hurting, have a go at our quick online check-up.
CONSIDERATIONS BEFORE WHITENING SENSITIVE TEETH
Before you embark on your teeth-whitening journey, take time to:
• Find a quality teeth-whitening product. According to the Oral Health Foundation, 20 million people in the UK have put themselves at risk by using illegal or unsafe tooth whitening processes.2
• Let a dentist check the health of your teeth ahead of treatment.3 Teeth-whitening sensitivity can be caused or aggravated by underlying oral health problems such as tooth decay, gum disease, cracked or broken teeth, loose or lost fillings and damaged enamel.4
• Consider sticking with your natural, "true white" colour, rather than aiming for an unnaturally dazzling shade of white.
• Before using harsh products, consider avoiding or limiting certain foods and drinks that can stain your teeth. Red wine, tea, coffee and cigarettes are some of the main culprits of discolouration.
• If you have sensitive teeth, opt for a more gentle, mouth-friendly product. A teeth-whitening toothpaste that also offers protection for your teeth and gums is a great place to start. Sensodyne Daily Care Gentle Whitening has a superior whitening action* and provides long-lasting sensitivity care.
• Consider professional whitening treatment by a dentist, dental therapist or dental hygienist.5 Procedures might include whitening gels applied with mouthguards or laser whitening.6 It's recommended that you find a dentist registered with the General Dental Council.7
HOW TO MANAGE TEETH WHITENING SENSITIVITY
If you're suffering from sensitive teeth after whitening, the dentist should be your first port of call for help and advice. Yet there are some simple, at-home steps you can take to regain a pain-free smile.
• Experiencing tooth pain? Hold off on using teeth whitening products and see if that makes a difference.
• Those with sensitive teeth can keep stains at bay with a specialist teeth-whitening toothpaste.
• Take care of sensitive teeth by brushing twice daily with a sensitive toothpaste that contains fluoride, flossing and seeking regular dental check-ups. We've put together a checklist on the best ways to manage and prevent tooth sensitivity.
TEETH WHITENING PRODUCTS FOR SENSITIVE TEETH
With so many teeth-whitening products available, it's easy to feel confused about which is the best way to whiten your teeth. Not all teeth-whitening solutions are the same.
If you have sensitive teeth, toothpastes such as Sensodyne Daily Care Gentle Whitening and Sensodyne Sensitivity and Gum Whitening help to remove stains to restore the natural whiteness of your teeth and keep your teeth and gums clean and healthy.

To rediscover the joy of a brighter, pain-free smile, explore the full Sensodyne range, including whitening toothpastes, and find the product best suited to your teeth.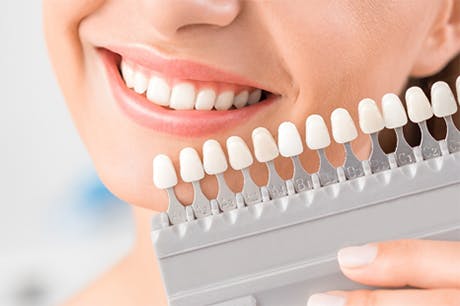 Sources: Clicking any of the links below takes you to an external website that is independently operated and not managed by Haleon. Haleon assumes no responsibility for the content on the website. If you do not wish to leave this website, do not click on the links below.
*versus previous formulation