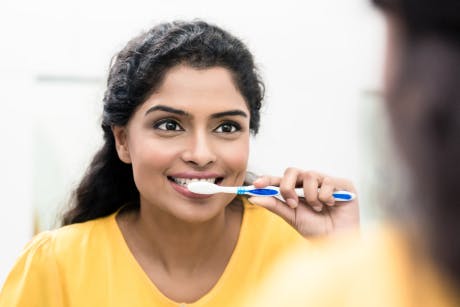 Understand how fluoride helps your teeth
What is fluoride?
According to the NHS, "Fluoride is a naturally occurring mineral found in water in varying amounts, depending on where in the UK you live." Fluoride can help prevent tooth decay by strengthening the enamel on your teeth and it also reduces the acid that is produced by bacteria in your mouth.1
Where do you get fluoride from?
Fluoride is found naturally in varying concentrations in water and some foods. If you're wondering "Is fluoride good for you?", research in the early 20th century found that people living in areas that had higher fluoride levels in the drinking water had less tooth decay than people living in lower fluoride-level areas. This research led to the local government in the Midlands adding carefully controlled amounts of fluoride to the local drinking water. This area has much lower incidences of tooth decay than areas that don't have naturally occurring fluoride.2
How does fluoride work?
Fluoride works when you consume it via drinking water, foods or supplements – and this is how it helps babies' and children's teeth grow strong and resistant to decay. Most people also use a fluoride toothpaste or fluoride mouthwash.3
How does fluoride toothpaste work?
The fluoride used in fluoride toothpaste works with the minerals in your teeth to help make the enamel on your teeth stronger by 'remineralising' them, after they lose those minerals during the day. The fluoride helps to strengthen your teeth, and resist the effects of acids, sugars and plaque bacteria.4
Is fluoride bad for you?
It's understandable that you'd want to know, is fluoride bad for your teeth? Rest assured that research over 70 years has shown that adding fluoride to water has led to the reduction of tooth decay by 40-60%.5 The British Dental Association also recommends that everyone should brush with a fluoride toothpaste for at least two minutes, twice a day.6
What happens to your teeth if you don't have enough fluoride?
Fluoride helps strengthen the enamel on your teeth.7 The enamel protects a soft layer of a substance called dentine, and if the dentine is exposed because the enamel is weak, you can get sensitive teeth.8
How do I choose the best fluoride toothpaste?
According to the NHS, toothpastes containing 1,350 to 1,500 parts per million (ppm) of fluoride are the most effective for adults and children over six years old. Children up to the age of three years old should brush twice daily with a smear of fluoride paste containing at least 1,000 ppm, while children aged three to six should brush twice daily with a pea-sized amount of fluoride toothpaste containing more than 1,000 ppm.9
How do you prevent sensitive teeth?
There are several ways in which you can help your sensitive teeth, or prevent them from becoming sensitive. These include brushing your teeth with fluoride toothpaste for sensitive teeth just before you go to bed, as well as one other time during the day, and using a high-fluoride toothpaste that contains at least 1,350 ppm of fluoride. You should also:
Change your toothbrush every three to four months.

Wait at least an hour after eating sugary or acidic foods and fizzy drinks before brushing. Try to cut down on these foods or only have them at mealtimes.

If you think your teeth are sensitive because you grind them, ask your dentist about having a special mouthguard made to wear at night.

10
Sources: Clicking any of the links below takes you to an external website that is independently operated and not managed by Haleon. Haleon assumes no responsibility for the content on the website. If you do not wish to leave this website, do not click on the links below.