Sensodyne
Complete Protection
Sensodyne. No.1 dentist recommended brand for sensitive teeth
Sensitivity relief
Helps protects enamel
Fresh feeling
Helps prevent gingivitis
Whitening*
Plaque removal*
Cavity protection
Fresh taste
Long lasting sensitivity protection*
Sensodyne Complete Protection builds a protective layer over the sensitive areas of your teeth - and gives you seven benefits in one sensitivity toothpaste. With brushing twice a day, Sensodyne Complete Protection also helps strengthens and re-hardens acid-weakened enamel, protects against plaque, maintains healthy gums and helps you restore your teeth's natural whiteness.
*With twice daily brushing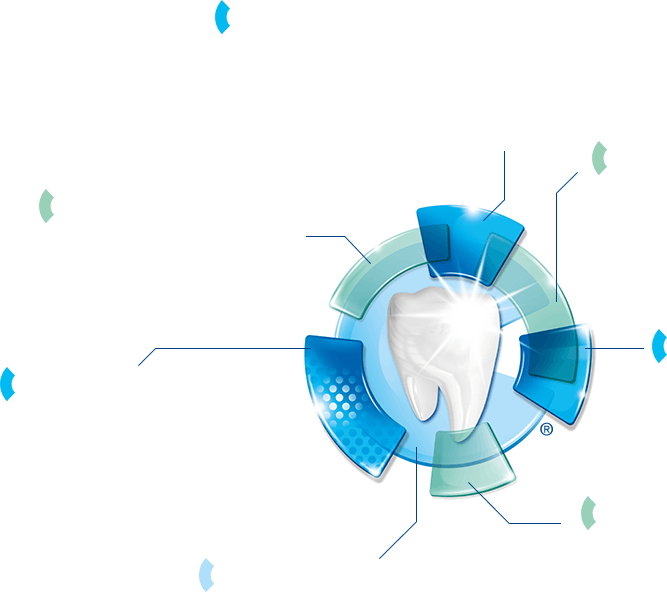 Gums
Gum recession is one of the leading causes of sensitivity. Healthy gums are essential for healthy teeth. With twice daily brushing Sensodyne Complete Protection helps maintain healthy gums and prevents gingivitis.
Clean
Sensodyne Complete Protection helps provide effective cleaning for good oral hygiene, to help leave your mouth feeling clean and fresh.
Plaque
Plaque forms from bacteria build- up, and is a leading cause of oral health problems. Sensodyne Complete Protection helps to control plaque.
Whitening
Sensodyne Complete Protection is designed for use by people with sensitive teeth. With twice daily brushing, it will help to maintain the natural whiteness of your teeth.
Sensitivity
Sensitive twinges can occur when dentin, the inner part of the tooth, is exposed. Sensodyne Complete Protection restores a protectice layer over exposed dentin and is clinically proven to relieve the pain of sensitivity, with twice daily brushing.
Enamel
Enamel loss is one of the leading causes of sensitivity. Enamel protects the more vulnerable, inner part of the tooth so it is important to keep it strong and healthy. Sensodyne Complete Protection contains fluoride to help strengthen and protect enamel.
Fresh
Sensodyne Complete Protection has a minty taste that leaves your whole mouth feeling fresh.
MEDICINAL INGREDIENTS
Stannous fluoride 0.454% (0.11% w/w Fluoride ion).
NON-MEDICINAL INGREDIENTS
cocamidopropyl betaine, flavour, glycerin, hydrated silica, PEG-8, pentasodium triphosphate, polyacrylic acid, sodium lauryl sulfate, sodium saccharin, titanium dioxide.
Always follow the label. Adults and children 12 years of age and over. For long lasting protection, brush thoroughly (for at least 1 minute), twice daily, preferably after each meal or as directed by a health care practitioner. Spit out and do not swallow. Use no more than 3 times/day.
Do not use if glued carton ends are missing or broken. Store between 15°C – 25°C. If more than used for brushing is swallowed, get medical help or contact a Poison Control Centre immediately. As with other toothpastes, if irritation occurs, discontinue use. Sensitive teeth may indicate an underlying problem that needs prompt care, if symptoms persist or worsen see your dentist. Do not use if allergic to any of the ingredients. Keep out of reach of children under 6 years of age. Not for use by children under 12 years of age, unless on the advice of a dental professional or physician.
Dentists Recommend Sensodyne Complete Protection
Watch Dr. Mamta explain why she recommends this toothpaste to help treat sensitive teeth and provide additional benefits to meet your oral care needs.
"This toothpaste really cut down the sensitivity I have to cold foods and beverages…it also has a really great mint flavor that keeps my breath fresh long after I've brushed. Between those factors and the cavity protection, it's definitely a great all-around toothpaste to use on a daily basis."
–Saramarie8587, Garnet Valley, PA