Sensodyne
Brilliant Whitening


Sensodyne. No.1 dentist recommended brand for sensitive teeth
Sensitivity relief
Long lasting sensitivity protection*
Cavity protection
Fresh taste
Whitening
Relieves sensitivity and removes stains for a whiter smile.
*With twice daily brushing
Why choose Sensodyne Brilliant Whitening to whiten sensitive teeth?
If you have sensitive teeth, it's probably due to exposed dentin. This is the softer substance beneath your tooth enamel. It is full of tiny holes that lead directly to the nerve at the center of the tooth, which is why you can feel sensitivity pain with cold and sometimes hot food and drinks.
With Sensodyne Brilliant Whitening you'll get dual benefits: a toothpaste that provides long lasting sensitivity care*, while also helping to whiten your teeth by removing stains.
*With twice daily brushing
MEDICINAL INGREDIENTS
Potassium nitrate 5% w/w, sodium fluoride 0.243% w/w (fluoride 0.11% w/w)
NON-MEDICINAL INGREDIENTS
cocamidopropyl betaine, flavour, glycerin, hydrated silica, polyethylene glycol, sodium hydroxide, sodium methyl cocoyl taurate, sodium saccharin, sodium tripolyphosphate, sorbitol, sucralose, titanium dioxide, water, xanthan gum.
Always follow the label. Adults and children 12 years of age and over. Brush teeth thoroughly (for at least 1 minute), twice daily, preferably after each meal or as directed by a health care practitioner. Spit out and do not swallow. Use no more than 3 times/day.
Do not use if glued carton ends are missing or broken. Store between 15°C – 30°C. If more than used for brushing is swallowed, get medical help or contact a Poison Control Centre immediately. As with other toothpastes, if irritation occurs, discontinue use. Sensitive teeth may indicate an underlying problem that needs prompt care, if symptoms persist or worsen, see your dentist. Do not use if allergic to any of the ingredients. Rare symptoms of an allergic reaction may include swelling of the mouth or face. If this occurs stop use and talk to your dentist or doctor. Keep out of reach of children. Not for use by children under 12 years of age.
Tooth Sensitivity Is Common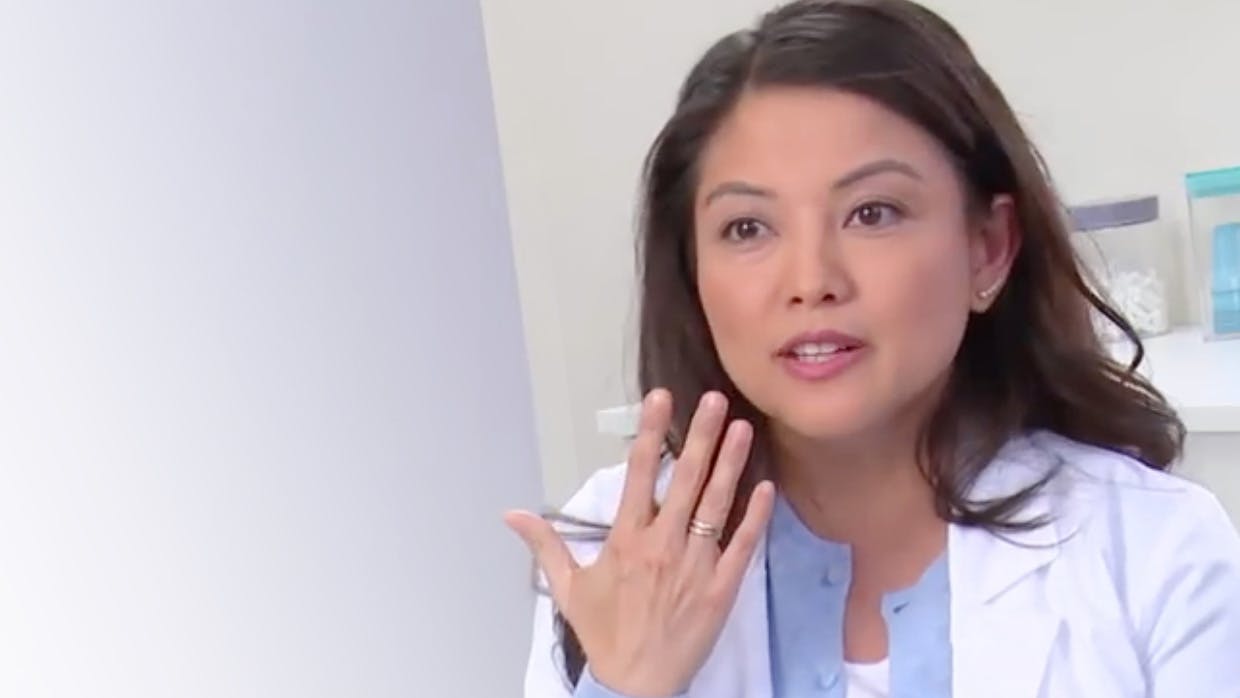 Watch Dr. Janice explain the symptoms of sensitive teeth and how Sensodyne can help.
"My teeth immediately felt 'just from the dentist' clean even though I am a heavy coffee consumer. It was gentle enough to not irritate my gums but effective in whitening and cleaning."
–Lisargiles, Selma, AL