Sensodyne
Complete Care + Smart Clean

Cool Mint
No.1 brand for sensitive teeth¹
Sensitivity relief
Gentle whitening
Plaque removal*
Enamel
Helps maintain gum health*
Contains fluoride for cavity protection
Cleaning
Freshness
Caring for your sensitive teeth shouldn't come at the expense of other important oral health benefits and an enjoyable brushing experience. Sensodyne Cool Mint Complete Care + Smart Clean has been specially designed to provide effective sensitivity protection* together with 7 important oral care benefits. The ultra low abrasion formula features our Smart Clean System, which provides active stain removal and cleaning.
The cool mint flavour provides an invigorating lasting cooling sensation, with a refreshing double mint flavour, and a hint of aromatic herbs.
*With twice daily brushing 1.Source IRI [CHANNEL: NZ Grocery & pharmacy, MEASURE: $ sales (local currency), TIME: MAT 11/09/22 in NZ]
Ingredients
Sorbitol (70% non crystalising), Glycerol, Hydrated Silica, Water-Purified, Sodium tripolyphosphate, Potassium nitrate, Macrogol 300, Flavour, Titanium dioxide, Cocamidopropyl betaine, Sodium methyl cocoyl taurate, Xanthan Gum, Sodium Hydroxide, Sodium fluoride, Saccharin sodium, Limonene.
DO NOT SWALLOW. Not for use by children 12 years of age or under unless on the advice of a dental professional or doctor. Do not use if carton seals are open.
ALWAYS FOLLOW THE LABEL. Brush twice a day and not more than 3 times, be sure to spit out. If irritation occurs discontinue use. Keep out of reach of children.
Carefully read all information provided with the product before use.
Sensitive teeth may indicate an underlying problem that needs prompt care. If symptoms persist or worsen consult your dentist.
Talk to your dentist or doctor as soon as possible if you experience swelling of the mouth or face.
Store below 30⁰C.
Dentists Recommend Sensodyne Complete Protection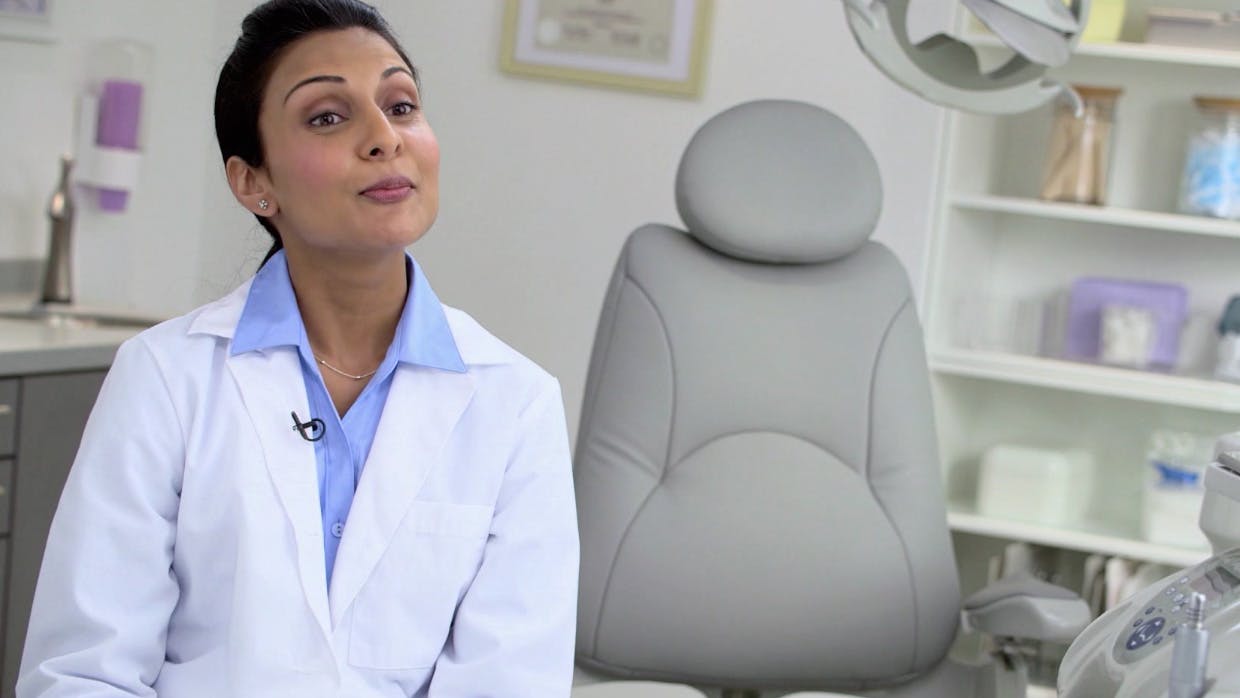 Watch Dr. Mamta explain why she recommends this toothpaste to help treat sensitive teeth and provide additional benefits to meet your oral care needs.
"This toothpaste really cut down the sensitivity I have to cold foods and beverages…it also has a really great mint flavor that keeps my breath fresh long after I've brushed. Between those factors and the cavity protection, it's definitely a great all-around toothpaste to use on a daily basis."
–Saramarie8587, Garnet Valley, PA