Sensodyne Repair & Protect Toothbrush
More flex.~ Less Pressure.~ Better Cleaning~
2x Better pressure control~
Soft bristles
Designed for people with sensitive teeth

No.1 brand for sensitive teeth¹
Cleaning effectively is particularly important for people with sensitive teeth to help avoid a build-up of plaque and to help minimise further tooth wear.
Our Sensodyne Repair & Protect toothbrush has been specially designed for people with sensitive teeth.
-Small head and long DUOFLEX neck for effective reach
-Outer bristles with 4 fine tips each for effective cleaning in hard-to-reach areas
-Curved cut for effective surface cleaning
1.IQVIA ™& NielsenIQ © RMS Sell Out Service, Toothpaste Sensitive Segment (client defined) Australia Grocery and Pharmacy market MAT to 30/08/2022
~In laboratory tests vs a standard flat trim brush without a ball joint.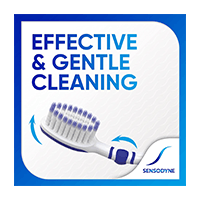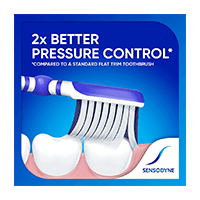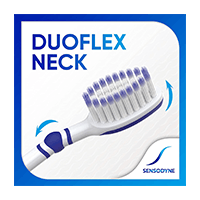 Carefully read all information provided with the product before use.
It is recommended that toothbrushes are replaced every 3 months.
"This toothpaste is wonderful! It definitely reduces sensitivity and also leaves behind fresh smelling/tasting breath."
–Beautybee32, Wasilla, AK